NULL
A surreal adventure game about exploring strange places and puzzling out how to proceed.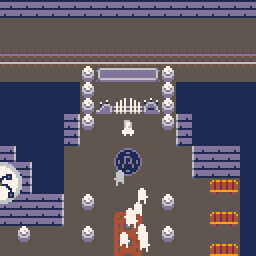 Released: December 2017
Developed: November 2017 - December 2017
Team: Joseph Henry Stadolnik IV
Tools: PICO-8
Programming Language: Lua

My Role: Solo Developer
I made the entirety of this game by myself.
My achievements on this project included:
Designing a series of five unique areas exploring different mechanics and ideas revolving around simple top-down 2D movement:

Exploring a train station to find switches and hidden items.
Navigating a looping desert using cues from a statue.
Avoiding the gaze of giant eyes in a light stealth section.
Following the guidance of shy wisps to step on tiles in a certain order.
Navigating a four-part gauntlet to collect objects without touching obstacles.

Drawing all visual assets using PICO-8's editor.
Creating all audio assets using PICO-8's editor.

Other Notes:

This is a companion game to Messages, my eerie game about texting.
There are hidden objects and character encounters which reveal more details in the ending and link NULL more clearly to Messages.

Links:
PICO-8 Forum Post
itch.io