NIGHT FRIGHT FLIGHT
A Halloween-themed endless runner about a ghost collecting candy corn and avoiding spookier things.
This was featured at PAX East 2018 at WPI's Interactive Media and Game Development Booth.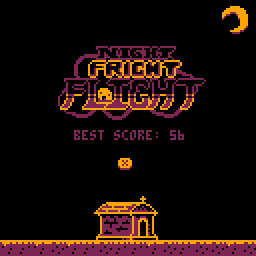 Released: October 2017
Developed: October 2017
Team: Joseph Henry Stadolnik IV
Tools: PICO-8
Programming Language: Lua

My Role: Solo Developer
I made the entirety of this game by myself.
My achievements on this project included:
Designing an endless runner system around using free 2D movement to collect candy and dodge hazards.
Designing a phasing mechanic that makes the player briefly invulnerable but must be recharged with candy.
Designing a variety of hazards that work together to keep any area on the screen from being safe.
Drawing all visual assets using PICO-8's editor using a striking 3-color palette.
Creating all audio assets using PICO-8's editor.

About:
This game was made for the PICO-8 October 3-Color Jam. The jam restrictions were to make a game that was spooky and optionally silly, and had no more than 3 colors visible at once during gameplay.

Links:
PICO-8 Forum Post
itch.io