FUZ
A fan-made PICO-8 demake of Polytron Corporation's
2012 game FEZ.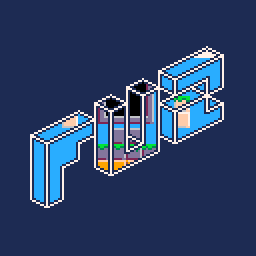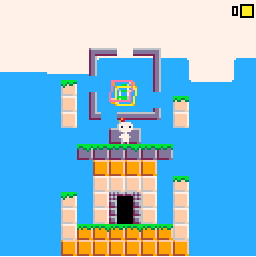 Released: May 2019
Developed: April 2019 - May 2019
Team: Joseph Henry Stadolnik IV
Tools: PICO-8
Programming Language: Lua

My Role: Solo Developer
I made the entirety of this game by myself, working closely from FEZ's art, mechanics, audio, and puzzles for reference.
My achievements on this project included:
Reverse-engineering a version of FEZ's unique rotation and collision system within the limitations of PICO-8.
Implementing an image-based system for creating the game's voxel-based levels.
Implementing a convincing 3D rotation effect using just 2D sprites and visual trickery.
Designing an interconnected world of eight diorama-like levels.
Designing an intricate language-deciphering puzzle using many of the game's rooms.
Recreating two prominent types of input-based puzzles from FEZ.
Drawing all visual assets using PICO-8's editor, heavily referencing FEZ's original art and adapting it to PICO-8's limitations.
Creating all audio assets using PICO-8's editor.

About:
The idea of a demake is the reverse of a remake: take an existing game and make a simpler version of it on a more limited platform. In making FUZ, I sought to recreate as many aspects of the original FEZ as I could within the heavy restrictions of PICO-8.
You can read much more about my development process in my retrospective here.

Other Notes:

As a fan game, this was not released for profit and is not endorsed by Polytron Corporation.
True to the original, there are multiple possible endings depending on whether the player solved all the puzzles.
Several FEZ puzzle types make use of specific symbols. I preserved this in FUZ, but whenever possible I used my own symbol designs instead.

Retrospectives:
It's Gomez Time (Again): Reflections on Demaking FEZ

Articles:
"Fuz - Browser Game" (Free Game Planet)
"FUZ" (Wireframe, Issue 17, Pages 24-25)

Links:
PICO-8 Forum Post
itch.io